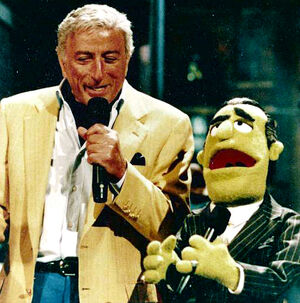 Singer Johnny Fiama falls flat on his face when he meets his idol, Tony Bennett.
Skit Highlights
Notes
This is the first episode not to feature any of Frank Oz's characters.
This is the first broadcast episode to feature outtakes during the credits.
A framed photo of Scooter (who doesn't appear at all in this series) can be seen on the wall next to Beauregard at the end of the show.
Performers
Ralph Sharon Trio: Ralph Sharon, Clayton Cameron, Douglas J. Richeson
Cast
Muppets:
Clifford, Johnny Fiama, Sal Minella, Gonzo, Kermit the Frog, Dr. Bunsen Honeydew, Beaker, Spamela Hamderson, Mount Rushmore, Statler and Waldorf, Gil, Leapovitch the Frog, Shirley, Stosh, Don the Prop Guy, Beauregard, The Chickens, Camilla, Bobo the Bear, Andy Pig, Randy Pig, Lew Zealand, Clueless Morgan, Polly Lobster, Mr. Callahan, The Elvises, Galahad, Lady Guenevere, Dance-a-Lot
Background Muppets:
Ad blocker interference detected!
Wikia is a free-to-use site that makes money from advertising. We have a modified experience for viewers using ad blockers

Wikia is not accessible if you've made further modifications. Remove the custom ad blocker rule(s) and the page will load as expected.