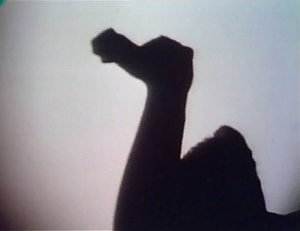 Ernie wants to borrow Herbert Birdsfoot's vacuum cleaner, but he worries about how Herbert will respond. Maybe Herbert's taking a bath, and he'll be so angry at Ernie for interrupting him that he'll tell everyone to never loan Ernie anything ever again! (EKA: Episode 0303)
Cartoon: A goat sings the "Mad Goat Song." A dog pulls the goat's whiskers, a cat sets off a loud firecracker, a duck makes faces at the goat, and a pig refuses to share his ice cream with the goat. (EKA: Episode 0824)
Film: Play to Grow - A group of disabled children play with a feather. (First: Episode 0813)
Cartoon: A man blows 7 bubbles.
Cartoon: Policemen find clues that lead them to a stolen tub. (EKA: Episode 0868)
Animation: Three lines attempt to individually reach the top of the TV screen, but fail. They succeed after they combine all of their lengths. (EKA: Episode 0300)
Film: Shadow-puppet camel
Film: Future careers: footage of a kid acting out a certain job, followed by an adult doing "the real thing." (EKA: Episode 0796)
Film: A man makes a shadow puppet of a horse.