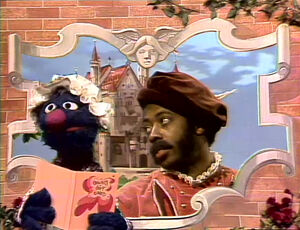 Cartoon: A girl explains that a snowman can't be made out of ice or sand. (EKA: Episode 0820)
Grover counts backwards from five to one.
Grover narrates a fairy tale, "The Cursed Prince", starring David and Maria. David is a prince who has been cursed by a witch. The curse can only be broken by Princess Maria's kiss, which turns him into Kermit the Frog.
Olivia resents being looked after by her brother Gordon, now that she's a grown-up. She sings "I'm a Big Girl Now", where she explains that even though Gordon helped her a lot when she was younger, she's all grown up and doesn't need it as much. (EKA: Episode 0950)