Ad blocker interference detected!
Wikia is a free-to-use site that makes money from advertising. We have a modified experience for viewers using ad blockers

Wikia is not accessible if you've made further modifications. Remove the custom ad blocker rule(s) and the page will load as expected.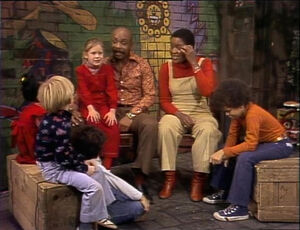 Children help Big Bird feed his bird friends.
Film: Parts of a clown are shown in close-up as kids guess what it is. (EKA: Episode 0956)
The Count pretends to be asleep so he can count people as they tiptoe by.
Cartoon: A red man tries to get apples from a tree by himself, while a yellow man builds a ladder. (EKA: Episode 0870)
Ernie and Bert: Ernie gets ready to do the laundry, gathering things to do while he's waiting for the laundry to be done. He fills up the laundry basket with toys... and doesn't have room for the laundry. (EKA: Episode 0673)
In a three-part skit, a group of acrobats miss their target.
Cartoon: A construction worker explains the uses of a folding ruler. (EKA: Episode 0592)
Ernie and Bert: Ernie holds a hanky while Bert sneezes -- and Bert's nose comes off in Ernie's hand. Ernie teases Bert by putting his nose back in the wrong places. (First: Episode 0026)
Cartoon: A cat tries to teach the alley cats to play music in harmony. (EKA: Episode 0926)