Ad blocker interference detected!
Wikia is a free-to-use site that makes money from advertising. We have a modified experience for viewers using ad blockers

Wikia is not accessible if you've made further modifications. Remove the custom ad blocker rule(s) and the page will load as expected.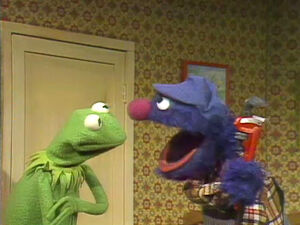 Sesame Street News Flash: Humpty Dumpty has fallen off a wall, and Kermit interviews one of the king's horses. Gladys the Cow is also with them, pretending to be a horse. Humpty is put together again, but then Kermit gives him a congratulatory slap on the back, and he falls off the wall again. Then the king's horses and men begin blaming Kermit for the trouble he caused. (EKA: Episode 0705)
Film: A girl goes to the shoemaker and watches him as he repairs her shoes. (EKA: Episode 1028)
Gordon cycles around the city and in the park.
Kermit at Home: Grover comes to Kermit the Frog's house to fix his sink. Kermit fills him in on a demonstration of "big, bigger and biggest" when it comes to wrenches. Even so, the sink repair goes awry, and the house floods.