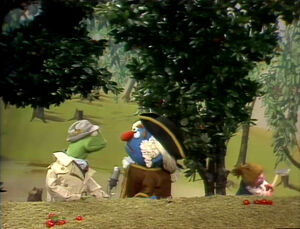 Ernie and Bert: Ernie won't let Bert into the apartment. At first, Bert is sad -- but then he thinks Ernie might be hiding something, which makes him mad. He demands to be let in -- and finds that Ernie has thrown him a surprise party, which makes him happy.
Hubley animation: A girl tries to lure her cat out from under the chair so she can pick him up.
Cartoon: A girl uses her paint-by-the-numbers set to find an elephant in her picture. (EKA: Episode 0803)
Film: A group of Hispanic children pick members for their baseball team. A new kid, Ramon, joins them. (EKA: Episode 0811)
Two Muppet hands argue over a piece of cake before they decide to share it. (EKA: Episode 0235)
The cast plays knights who need to have their lunch at a round table.
Ernie tries to put a pot on Bert's head. Bert asks Ernie why he's doing that, and Ernie says that he broke a cookie jar. Ernie has to put the cookies somewhere, so he put them in the sugar bowl – and put the sugar in the flowerpot, which meant that he had to put the flower in a milk bottle. He put the milk in the soda bottle, and the soda into the fishbowl, and the fish in Bert's cowboy hat. Bert asks, "Now what am I going to wear when I want to play cowboy?" Ernie puts the pot on Bert's head and says, "Ride 'em, cowboy, Bert!" (First: Episode 0279)
Cartoon: Two men (represented by only their heads) have their own different idea, and tell the other about it; now both men know twice as much. (EKA: Episode 0268)
The Count counts ten angry people and Oscar announces the closing sponsors. ("Have a rotten day!")
Notes
Ad blocker interference detected!
Wikia is a free-to-use site that makes money from advertising. We have a modified experience for viewers using ad blockers

Wikia is not accessible if you've made further modifications. Remove the custom ad blocker rule(s) and the page will load as expected.