Episode 1060
Talk

0
27,101pages on
this wiki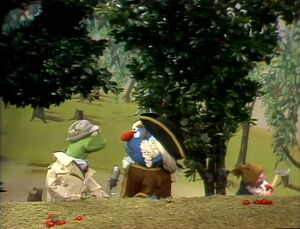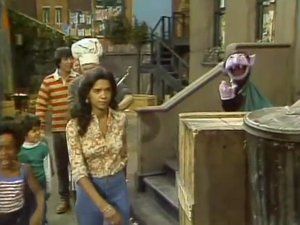 Ernie and Bert: Ernie won't let Bert into the apartment. At first, Bert is sad -- but then he thinks Ernie might be hiding something, which makes him mad. He demands to be let in -- and finds that Ernie has thrown him a surprise party, which makes him happy.
Ernie and Bert: Ernie tries to put a pot on Bert's head. Bert asks Ernie why he's doing that, and Ernie says that he broke a cookie jar. Ernie has to put the cookies somewhere, so he put them in the sugar bowl – and put the sugar in the flowerpot, which meant that he had to put the flower in a milk bottle. He put the milk in the soda bottle, and the soda into the fishbowl, and the fish in Bert's cowboy hat. Bert asks, "Now what am I going to wear when I want to play cowboy?" Ernie puts the pot on Bert's head and says, "Ride 'em, cowboy, Bert!" (First: Episode 0279)
The cast plays knights who need to have their lunch at a round table.
Bert tries to find a place to keep his fish.
The Count counts ten angry people and Oscar announces the closing sponsors. ("Have a rotten day!")
Notes