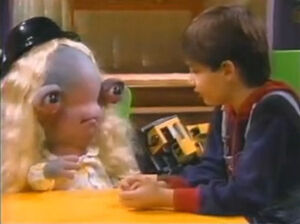 Snizzy invents a machine that creates a nicer copy of whatever you feed into it. Meanwhile, Bobut is desperate for a Stinky Stevie doll -- "the doll that barfs on you!" -- but Doug and Cookie refuse to buy him one.
Bobut uses the duplicating machine to create a clone that he can leave behind in his place while he goes to the toy factory to acquire a doll. The decoy Bobut is so sickly sweet that Doug and Cookie wonder what they could have done wrong. At the toy factory, Bobut finds himself mistaken for a doll, and he's shipped off to the home of two spoiled children.
Notes
The guest cast includes Hayden Panettiere, who became famous in 2006 as Claire Bennet, the cheerleader superhero on Heroes.
Guest cast
External links
Ad blocker interference detected!
Wikia is a free-to-use site that makes money from advertising. We have a modified experience for viewers using ad blockers

Wikia is not accessible if you've made further modifications. Remove the custom ad blocker rule(s) and the page will load as expected.