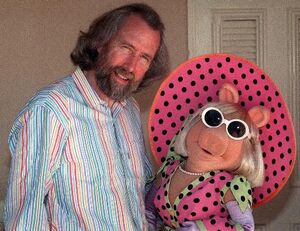 Plot Outline
Jim Henson's Intro
Jim Henson talks about the second half hour, Miss Piggy's Hollywood.
MuppeTelevision
Kermit struggles to keep the show's ratings up, while Digit experiences various malfunctions.
Sketches:
Features the first Hurting Something sketch, as well as the first appearances of Zondra, Ubu and Chip.
Intro
Jim Henson and the lion put on sunglasses, because they are going to Hollywood, as they introduce the second half.
Miss Piggy presents a tour of Hollywood, assisted by Gonzo. She tries to interview "the family of stars," but none of them want to talk to her.
Closing
Jim Henson demonstrates a dog Graffiti Muppet and introduces it to The Thought Lion.
Notes
Despite none of his characters appearing, Jerry Nelson can be seen in the MuppeTelevision portion as Mr. Harry Stapleton, representing a key demographic of one.
Although Jerry Nelson appears on-screen, he most likely didn't perform any Muppets in this episode, as he isn't credited as a performer, and none of the Muppets in this episode are voiced by him.
According to the May 17, 1989 issue of Star-News, this episode was the lowest rated TV program among the major three networks the week it aired (72nd out of 77 shows among all four networks) with a 5.2 household rating (viewed in about 4.7 million households)
This episode premiered on Mother's Day 1989. and was also the first episode to air in a Sunday night slot. Jim makes note of both of these events in his intro.
Credits
Muppets
Background Muppets
Muppet Performers