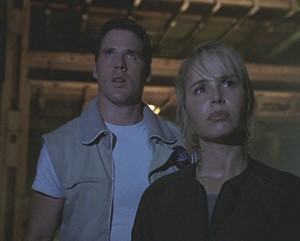 The crew finds an abandoned Peacekeeper ship adrift in space, it turns out that Rygel knows the ship all to well it's the Zelbinion, the ship were he was tortured. They discover a Peacekeeper tech on board the Zelbinion, that Aeryn Sun interogates, and they learn that some Sheyangs had been there to salvage and that they killed everyone in Gilina's unit, and that they will soon return to take more.
Guest stars
Alyssa-Jane Cook (Gilina Renaez), Derek Amer (Teurac), Peter Astridge (Voice of Lomus), Peter Knowles (Evran), David Wheeler (Captain Selto Durka), Phillip Hinton (Voice of Teurac), Christopher Truswell (Voice of Evran)
Notes
Ad blocker interference detected!
Wikia is a free-to-use site that makes money from advertising. We have a modified experience for viewers using ad blockers

Wikia is not accessible if you've made further modifications. Remove the custom ad blocker rule(s) and the page will load as expected.