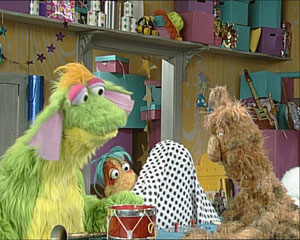 Mopatop opens the episode by offering a purple wig, a juicy fig or a giggly pig.
Rudy Monster comes into the store to get some hiccups. He has never tried it before, his brother, friends and even his goldfish has had it. Shortly after he got it, he comes back because the hiccups won't stop again no matter what he did to stop it. Mopatop and Puppyduck try to scare him so he can get rid of the hiccups. Among other things they try to scare him by showing him something hairy and scary, a Gorilla. Moosey Mouse gets curious about whats the noise that comes from the store, so he goes in and taps Rudy Monster on his leg to ask him whats going on. Rudy gets so scared that his hiccups goes away.
Video releases
Performers
Ad blocker interference detected!
Wikia is a free-to-use site that makes money from advertising. We have a modified experience for viewers using ad blockers

Wikia is not accessible if you've made further modifications. Remove the custom ad blocker rule(s) and the page will load as expected.