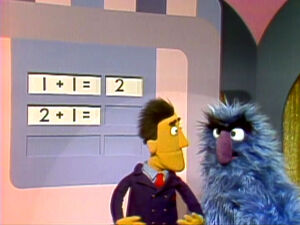 Cartoon: Two men push two large bird eggs to the top of two hills. (EKA: Episode 0936)
Cartoon: "Story of J" -- Two boys are told of a man named Joe who is sent to jail after jamming a june bug into a jar and a tire pump. (First: Episode 0009)
Japanese Stories: Japan is being victimized by an evil emperor, who boasts that he will relinquish his post to anyone who shows him something unique. Villagers bring flowers, fans, and hats, identical to those owned by the emperor, but a young girl is able to prove that she herself is different from anything else. (EKA: Episode 0346)
Simon Soundman wants a chicken sandwich, which he orders as a "cluck-cluck" sandwich. Waiter Grover has trouble figuring out what his customer wants. When Grover finally understands, Simon changes his mind. He now wants a hot dog, but he makes dog's sounds instead of saying "dog", confusing Grover again. (EKA: Episode 0678)
A standing bird is sorting from a group of flying birds.
Cartoon: A little girl shows the building and apartment where she lives -- both with the number 6. (EKA: Episode 0982)
Film: A boy narrates a film of how his family trains wild ponies on the farm. (EKA: Episode 0815)
Ad blocker interference detected!
Wikia is a free-to-use site that makes money from advertising. We have a modified experience for viewers using ad blockers

Wikia is not accessible if you've made further modifications. Remove the custom ad blocker rule(s) and the page will load as expected.