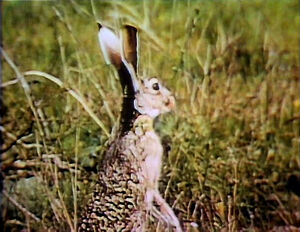 Animation: A lollipop finds its place next to another lollipop. (EKA: Episode 0838)
Madame Schwartzhead sings a solo concert about how whenever she doesn't know a certain word, she sounds it out until she blends it together to form the word instead of asking someone else to read it to her. Unfortunately, her concert goes awry when her loony backstage manager misinterprets what he hears. (EKA: Episode 0939)
Cartoon: A man walks in and out of the word IN.
Film: Kids pick green beans in the field. Later their mom cooks the beans, and they eat them. (EKA: Episode 0995)
Cartoon: A boy tries to guess what a voice belongs to by asking it questions, and wins a ride on a giraffe.
Olivia asks some children to guess what is in a box.
A film about the process of making sweaters from sheep's wool.
Ad blocker interference detected!
Wikia is a free-to-use site that makes money from advertising. We have a modified experience for viewers using ad blockers

Wikia is not accessible if you've made further modifications. Remove the custom ad blocker rule(s) and the page will load as expected.