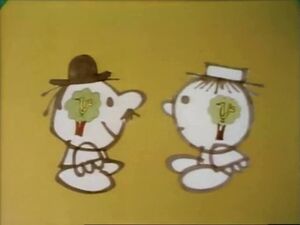 Bob learns sign language.
Cartoon: A boy imagines himself with different jobs so that a group of children will allow him to play with them. (EKA: Episode 0815)
Cartoon: A man distinguishes between drinking glasses and eyeglasses. (EKA: Episode 1014)
Ernie and Bert: Bert says that he's going to demonstrate quiet by talking quietly to Ernie. But when he tries, Ernie claims that he can't hear what Bert is saying. Finally, Bert gets frustrated and shouts at Ernie; Ernie tells Bert not to be so loud. (EKA: Episode 0882)
Cartoon: A man tells a confused boy that he saw a bird on a tree, with both of their thoughts appearing on the screen. (EKA: Episode 0814)
Film: Horses compete in a contest to see who can pull the most cement. (EKA: Episode 0881)
Andy, Maria, and several children classify by size.
Ad blocker interference detected!
Wikia is a free-to-use site that makes money from advertising. We have a modified experience for viewers using ad blockers

Wikia is not accessible if you've made further modifications. Remove the custom ad blocker rule(s) and the page will load as expected.