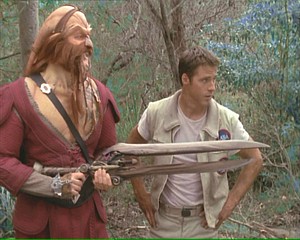 A group of Tavleks board Moya with the intention of doing some trading, instead they kidnap Rygel, in the battle the crew manage to knock one of the attackers out. They decide to use the gauntlet wepon they captured from the Tavlek they knocked out, the problem is that it injects a addictive substance into the one that carries it.
Guest Stars
John Adam (Bekhesh), Jeremiah Tickell (Kyr), Zoe Dimakis (Hontovek), Api Bavadra (Nonk).
References
Crichton makes references to Wile E. Coyote and Green Lantern.
Notes
Ad blocker interference detected!
Wikia is a free-to-use site that makes money from advertising. We have a modified experience for viewers using ad blockers

Wikia is not accessible if you've made further modifications. Remove the custom ad blocker rule(s) and the page will load as expected.