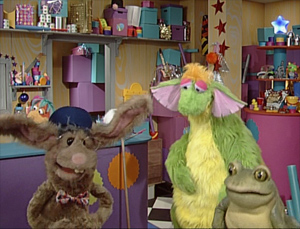 Mopatop opens the episode by offering a rag, a flag or a Grunting Bag.
Puppyduck wonders why theres no customers today, at the same time a thumbing noise comes from the attic. It turns out that Moosey Mouse and his parents are celebrating the hop holiday, a day were you have to hop. In the Shop Puppyduck refuses to believe that it's the mice as she says that mice go squeak and scratch scratch and not thump thump. Then Mrs. Fox enters the shop wondering what that thumping noise is, as they try to figure it out together she remembers that it's the hop holiday and she starts to hop and discovers that you can get a good hop in the shop. A Frog enters the shop, he had spoken to Mrs. Fox and she told him that he could get a good hop in the shop, so he starts hopping. A Rabbit also comes in after speaking to Mrs. Fox to get a good hop. And they start to sing a hopping song. Before they leave they ask Mopatop if they can come back and hop again next year and of course Mopatop says yes to that. Just before the shop closes for the day Puppyduck have started to hop, and the mice have stopped and are tired and wonders what the thump thump noise are that are coming from the shop.
Performers
Ad blocker interference detected!
Wikia is a free-to-use site that makes money from advertising. We have a modified experience for viewers using ad blockers

Wikia is not accessible if you've made further modifications. Remove the custom ad blocker rule(s) and the page will load as expected.