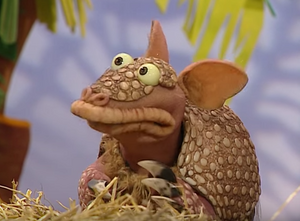 Plot
Stinky decides he needs more armor to be safer.
Segments
Opening
That's Amazing: How many worms an armadillo can eat
Guest: Sly the Crocodile from the swamps of Africa
Baby Talk: A crocodile lays her eggs
Song: Animal...Come Back, Animal (originally from The Muppet Movie)
Tizzy's Quiz: What is a gharial's problem?
Yves St. La Roache: shows how to prepare a meal of worms, but the worms start a protest!
Guest: Dooley the Armadillo from the flat open country of North and South America
Song: Dooley sings (Arma)Dillo Day, a holiday celebrated in Hamburg, Arkansas
Animal Awards: best digger
Story: A pangolin escapes from a lion by rolling up
Habitat Time: Everglades (Florida)
Tizzy's Quiz: What will happen to wildebeest near a waterhole next?
Closing
Performers
Trivia
Ad blocker interference detected!
Wikia is a free-to-use site that makes money from advertising. We have a modified experience for viewers using ad blockers

Wikia is not accessible if you've made further modifications. Remove the custom ad blocker rule(s) and the page will load as expected.