Ad blocker interference detected!
Wikia is a free-to-use site that makes money from advertising. We have a modified experience for viewers using ad blockers

Wikia is not accessible if you've made further modifications. Remove the custom ad blocker rule(s) and the page will load as expected.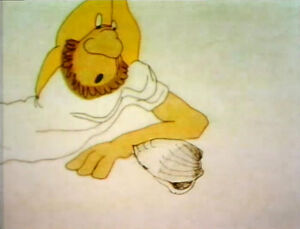 Cartoon: A fisherman becomes frustrated with all the seaweed he's catching instead of fish. To cure his woes, he removes the surrounding plant life, but still doesn't catch any fish. A clam informs him that by removing the fish food, he's disrupted the ecosystem. No food: no fish. (EKA: Episode 0851)
Cartoon: A caveman finds a rock on the ground, and visualizes the invention of the wheel and the car, ultimately deciding to toss the rock away: "Who needs it?" he says.
Cartoon: What if a turtle and rabbit switched appearances? (EKA: Episode 0801)
Film: Kid voiceovers identify a horse's body parts (shown one at a time), then the complete animal. (EKA: Episode 0813)
Cartoon: I've got some (hair), I've got more, but I've got the most. (EKA: Episode 0915)