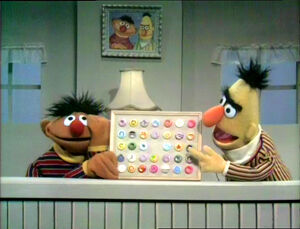 Cartoon: A little girl imagines what would happen if she dropped her bag of ping pong balls. (EKA: Episode 0899)
Animation: An orange has its face made up as Carmen the opera singer. (EKA: Episode 0277)
Cartoon: A girl uses her imagination while sitting on a sofa. (EKA: Episode 0956)
Luis demonstrates the use of some tools.
Cartoon: Four construction workers build a number 4.
Film: A boy narrates a film of cows being fed hay during winter. (EKA: Episode 0796)
Ad blocker interference detected!
Wikia is a free-to-use site that makes money from advertising. We have a modified experience for viewers using ad blockers

Wikia is not accessible if you've made further modifications. Remove the custom ad blocker rule(s) and the page will load as expected.