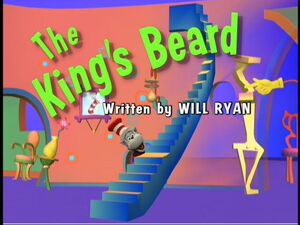 King Lindy of Lime has a beard so long that no one knows just how long it is. Yertle the Turtle, the King's trusted advisor, suggests that a young jester named Elwood be sent to measure the beard. Of course, wacky hijinks ensue when Elwood meets up with King Noogle, Princess Mindy, and King Noogle's trusted advisor...Yertle?
Songs
Video releases
Storybook adaptations
Ad blocker interference detected!
Wikia is a free-to-use site that makes money from advertising. We have a modified experience for viewers using ad blockers

Wikia is not accessible if you've made further modifications. Remove the custom ad blocker rule(s) and the page will load as expected.