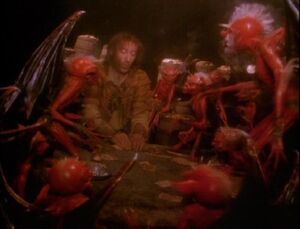 Plot Outline
Jim Henson's Intro
Dog takes the lion's place (claiming that Kermit the Frog got him a job in front of the Public Library) while Lindbergh repairs the broken monitors. Kermit shows how they were broken in instant replay on an unbroken monitor, which causes it to break.
MuppeTelevision
Gonzo and Leon talk Kermit into letting others help run things at the studio, but when Kermit decides to take a vacation, nobody knows what to do. Meanwhile, Fozzie decides to give up comedy and become a weatherbear on The Today Show, and the monsters host a telethon.
Sketches:
The StoryTeller
Jim Henson's Closing
Jim Henson notices that the Lion has a library card, and notes that everybody should have one.
Notes
This is the first of only a few episodes that featured Frank Oz.
This is one of the few MuppeTelevision segments that did not feature Jerry Nelson.
Credits
Muppets
Background Muppets
Muppet Performers