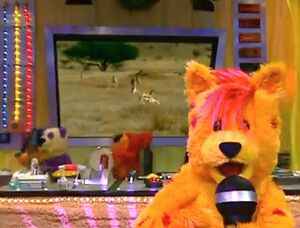 Waffle declares today as "Hooray For Waffle Day." Whenever Waffle does anything, everyone is suppose to shout "Hooray!" However, Waffle fails to jump no matter how hard he tries. Edi the Zebra tells him to keep taking chances and trying one's best. After Bozark's dance, Waffle keeps trying to jump and finally jump very high. Edi shouts "Hooray!" to Waffle's delight.
At the DJs' workstation, the DJs are creating a rocket pack to helped Waffle jump very high.
Songs
Reach, Reach, Reach For The Stars
Starhopper
Bozark Hoppin
Ad blocker interference detected!
Wikia is a free-to-use site that makes money from advertising. We have a modified experience for viewers using ad blockers

Wikia is not accessible if you've made further modifications. Remove the custom ad blocker rule(s) and the page will load as expected.