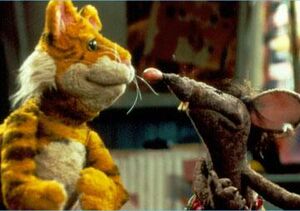 I'm Going to Tell...
Bratty Rat finds out that Raisin accidentally taped over the children's operatic cassette story. He threatens to tell on her, unless she's willing to do what he says (singing "I'm Gonna Tell on You.") In the end, other toys help Raisin to fix her mistake.
The Cat Toy that Roared
Mew borrows Rugby's tail for a game of "Pin the Tail on the Tiger" and accidentally drops it into the Lion's Den.
Ad blocker interference detected!
Wikia is a free-to-use site that makes money from advertising. We have a modified experience for viewers using ad blockers

Wikia is not accessible if you've made further modifications. Remove the custom ad blocker rule(s) and the page will load as expected.