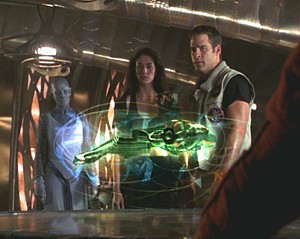 The crew on Moya rescues a shuttle with two Ilanic scientists, while opening the hatch to the shuttle Crichton gets a electric shock, that has the side effect that he begins to see future events and later he is able to travel back and fourth in time. It turns out that Matala are a Scorvian spy that will do anything to get the black hole that Verell tries to figure out how to control.
Guest Stars
John Clayton (Verell), Lisa Hensley (Matala)
Notes
Ad blocker interference detected!
Wikia is a free-to-use site that makes money from advertising. We have a modified experience for viewers using ad blockers

Wikia is not accessible if you've made further modifications. Remove the custom ad blocker rule(s) and the page will load as expected.