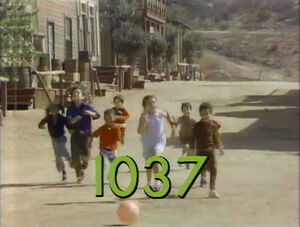 This episode guide is missing segments cut from Noggin's broadcast.
Picture
Segment
Description




SCENE 1

Buffy & the kids talk about Buffy's new baby Cody.

Cartoon

Kid names his own body parts

Muppets

Ernie and Bert: Ernie eats the ice cream that Bert was saving for later. Ernie tries to pass off a smashed up banana with ice and gravy for Bert's chocolate ice cream. Bert doesn't believe it, but then Oscar comes in with two ice cream cones. He wants to give one of them away, but then gives them both ice cream cones in exchange for what Ernie made.

Muppets

Cookie Monster demonstrates that egg starts with the letter E; he swallows the egg and faints.

SCENE 2

Bob and the kids sing "Right in the Middle of My Face."

Muppets

Ernie and Bert: Bert thinks that Ernie has eaten his cookies, but it turns out that Cookie Monster (dressed as Ernie) ate the cookies.
(EKA: Episode 0158)

Celebrity

Whitman Mayo's Animal Guessing Game #1 (Lions)

Film

Lions (instrumental, with occasional lion growls)
Music: Joe Raposo

Cartoon

F - finished
(First: Episode 0128)

Celebrity

Whitman Mayo's Animal Guessing Game #2 (Turtle)




SCENE 3

Big Bird has drawn a picture, but is upset that the baby is taking everyone's attention away from him.

Cartoon

The Dog & The Bone

SCENE 4

Angry, Big Bird won't let anyone see his picture. Finally, though, he decides to let only Buffy come inside.

SCENE 4,
cont'd

Buffy cheers up Big Bird by singing "Different People, Different Ways."




SCENE 4,
cont'd

Big Bird creates the final touch for his drawing.

Cartoon

Donnie Budd sings "Three on Lady's Lap."
Artist: Bud Luckey

Film

The Mad Painter #3
(EKA: Episode 0343)

Muppets

Ernie and Bert have pizza and grape juice. Bert complains that Ernie has more of each, so Ernie tries to make it even by eating some of his pizza and drinking some of his grape juice, but then Bert has more. And so on.
(EKA: Episode 0294)

Cartoon

Pinball #3
Artist: Jeff Hale

Muppets

Super Grover tries to stop a fight between Sammy and Frankie, who are fighting over an apple.
(EKA: Episode 0682)

SCENE 5

Big Bird watches Cody taking a bath.

Cartoon

"Mi casa es su casa."

Celebrity

Whitman Mayo's Animal Guessing Game #3 (Giraffe)

Transition

Broken glass

Muppets

Grover the Assistant: Grover and Herbert Birdsfoot count to twenty.
(EKA: Episode 0235)

Film

Milk (A film of cows being milked and then a man driving a milk truck must hurry and get milk to a fussy baby that wants her bottle)

Celebrity

Whitman Mayo's Animal Guessing Game #4 (Fish)

SCENE 6

Big Bird watches his friends and Buffy taking care of Cody
Notes
Clips from this episode are seen in A Walking Tour of Sesame Street.