Episode 1036
Talk

0
27,701pages on
this wiki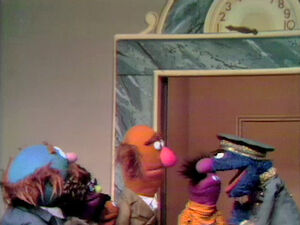 Grover the Elevator Operator: Demonstration of in and out by Grover. People prepare to ride the elevator, but Grover annoys them by the "in" and "out" lessons. Soon Grover lets them into the elevator without him, but they can't go up or down without an operator, so they break out and take the stairs instead. (EKA: Episode 0711)
Count von Count recites a poem he has written about the numbers one to ten.
Film: A wall painter on a high-rise spells and paints the word "WET PAINT" in red, but accidentally puts his hand on one of the painted letters and looks at his hand, all painted red, and shouts, "WET PAINT!"
Film: A baker draws, then uses the utensils and ingredients to make a birthday cake. (EKA: Episode 0427)
A woman experiments by playing musical instruments.
Cartoon: Panels flip to reveal different ways things WALK. (EKA: Episode 0820)