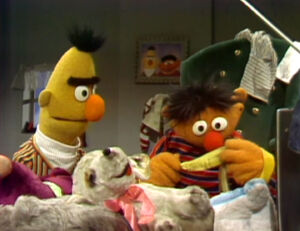 Buffy's husband and baby are coming to visit Sesame Street. Big Bird makes plans for their arrival.
Ernie explains how a scale can determine what is heavier than another object. With the scale, he was planning to split some cookies with Bert, but can't figure out how to do it. Cookie Monster shows him his way of solving the problem: he eats the cookies off each side of the scale until there are no cookies left. Ernie is disappointed since all he's left with is a "really good scale". Cookie disagrees--he's tasted better. (EKA: Episode 0264)
In the desert, Luis desperately searches for AGUA, but all the pumps are dry. (EKA: Episode 0680)
Film: a trip to the chewing gum factory.