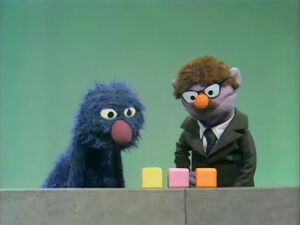 Cartoon: A girl wonders what would happen if she popped her balloon. She imagines it would scare her sister, who would end up breaking a vase and getting in trouble. (EKA: Episode 0300)
Grover the Assistant: Herbert Birdsfoot arranges three blocks for Grover to count. No matter how the blocks are arranged, they still add up to three. Herbert asks Grover to count some oranges as well. Grover confesses that he's good at counting blocks -- but he doesn't know how to count oranges! (EKA: Episode 0309)
Cartoon: A rabbit crosses the STREET, and almost gets run over. (EKA: Episode 0814)
Bob and the kids practice an easy way to put on one's coat.
Animation: First leaf, last leaf
Luis comes across a table with only three legs, yet still stands up fine. He searches in his box of junk for a proper leg.
Ad blocker interference detected!
Wikia is a free-to-use site that makes money from advertising. We have a modified experience for viewers using ad blockers

Wikia is not accessible if you've made further modifications. Remove the custom ad blocker rule(s) and the page will load as expected.