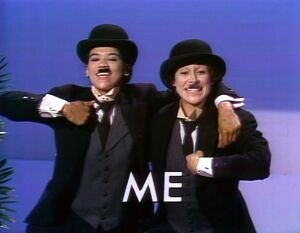 Big Bird turns into a Wonder Bird so he can spread wonderfulness around the world.
Snow White visits the house of the Six Dwarves; she has to count them several times before she realizes that she's in the wrong house. (First: Episode 0279)
Cartoon: On his way to the store, a boy gets distracted and remembers to buy different things. (EKA: Episode 0853)
Bob tries to sneak a bag of cookies home without getting noticed by Cookie Monster. Bob encounters Sherlock Hemlock, who has never seen him before and tries to deduce who Bob is. Sherlock comes to the conclusion that Bob must be Cookie Monster, due to the cookies in the bag. Cookie Monster comes and eats the cookies from the bag, so Sherlock realizes that Bob can't be Cookie Monster. Bob then introduces himself, and Sherlock asks if Bob has cookies left that he may have. As Bob finds another cookie, Cookie Monster comes and takes it. (EKA: Episode 0147)
Gordon and the kids sort by class.
Film: In fast and slow motion, boys play on the playground and ride a rollercoaster.
Cartoon: Abierto: Ali Baba arrives a bit late and gets run over by the 40 thieves leaving. (EKA: Episode 0573)
Ad blocker interference detected!
Wikia is a free-to-use site that makes money from advertising. We have a modified experience for viewers using ad blockers

Wikia is not accessible if you've made further modifications. Remove the custom ad blocker rule(s) and the page will load as expected.