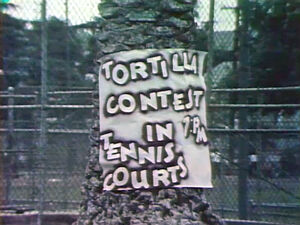 Film: Empty / full classroom (time-lapse)
Cartoon: A man tries to get to sleep, but is woken up by a fly, a chicken and a drum-playing rabbit, all of whom call him on the phone after he throws them out.
Animation: A grape blows reveille, and inspects the "troops" -- 12 raisins on a slice of white bread. (EKA: Episode 0810)
Film: Stop! (kids dancing)
Ad blocker interference detected!
Wikia is a free-to-use site that makes money from advertising. We have a modified experience for viewers using ad blockers

Wikia is not accessible if you've made further modifications. Remove the custom ad blocker rule(s) and the page will load as expected.