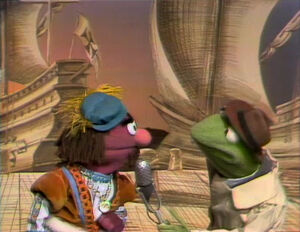 Big Bird doesn't like Buffy to sing him lullabies.
Linda tells the story of "The Farmer and the Seed" in sign language.
Ernie and Bert: Ernie has six jellybeans, and Bert has seven. Bert thanks Ernie for giving him the extra jellybean. Ernie says that isn't fair -- they should have an equal amount. To make it even, Ernie eats the extra jellybean. That's fair, isn't it? (First: Episode 0014)
Film: A girl practices and becomes an accomplished piano player. (EKA: Episode 0943)
Olivia sorts by form using parts of the body.