Ad blocker interference detected!
Wikia is a free-to-use site that makes money from advertising. We have a modified experience for viewers using ad blockers

Wikia is not accessible if you've made further modifications. Remove the custom ad blocker rule(s) and the page will load as expected.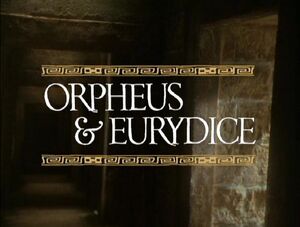 The Storyteller tells the story of Orpheus and Eurydice. One day Orpheus plays his music in the forest and wakes Eurydice, a wood nymph, and they fall in love and marry. After a short while, Eurydice is struck dead by the bite of a snake. Orpheus, determined to get her back, goes down into the Underworld to convince Hades to give her back. However there is a catch - Orpheus must leave the Underworld and not look back. If he can reach the sunlit world, trusting the Eurydice is behind him she is his, but if he looks back, she returns to the underworld forever.
Although aired as the 2nd episode, this episode technically counts as the last episode, as the Storyteller and the Dog find their way out of the Labyrinth.
Credits
Brian Henson as Dog
David Greenaway: Puppeteer
Angela Taylor: Dancer
Michael Small: Dancer
Rossana Sen: Dancer
Martin Rekab: Dancer
Marko Nunes: Dancer
Ikky Maas: Dancer
Anita Griffin: Dancer
Betsy Gregory: Dancer
Sue Glasser: Dancer
Nelson Fernandez: Dancer
Lucy Fawcett: Dancer
Mark Ashman: Dancer
External links