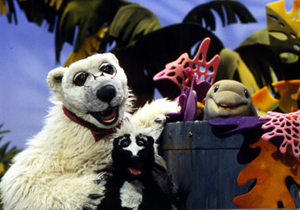 Stinky feels inferior to the guests, so he tries to make over 40 different sounds, the same number a dolphin can make (among them are "shomma-shomma!", "sut-sut-sut!", and "baba ghanoush! Baba ghanoush!").
Segments
Opening
That's Amazing: The world's longest bat cave, located in Texas
Guest: Fluke the Dolphin
Baby Talk: Baby bats nag their mother
Song: A montage of animal sounds
Tizzy's Quiz: What is making a school of fish jump into a net?
Yves St. La Roache: shows how to eat upside down
Guest: Leah the Fruit Bat
Song: Leah sings "The Fruit Bat Song"
Animal Awards: Fastest swimmer
Story: A "sticking-your-face-in-a-flower" contest is conducted by four bats
Habitat Time: The ocean coast of the Americas (bottom of the sea)
Tizzy's Quiz: Can a bat climb a tree?
Closing
Performers
Ad blocker interference detected!
Wikia is a free-to-use site that makes money from advertising. We have a modified experience for viewers using ad blockers

Wikia is not accessible if you've made further modifications. Remove the custom ad blocker rule(s) and the page will load as expected.