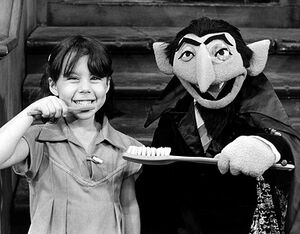 Big Bird has arranged for Buffy to meet Mr. Snuffleupagus at a dinner party. Buffy doesn't end up seeing Snuffy, but she tells Big Bird that it's wonderful to believe in things you can't see.
Ernie and Bert: Ernie can't decide which of the two different shelves he should place a large vase on, so Bert tells him to use his imagination. Ernie imagines the vase falling off the little shelf and Bert kicking him out of the apartment. Then, Ernie imagines putting the vase on the big shelf, and Bert rewarding him with a big surprise party. (First: Episode 0277)
Cartoon: Passengers on a crowded subway illustrate "between". (EKA: Episode 0926)
Film: A girl goes to the shoemaker and watches him as he repairs her shoes.
Cartoon: A red man tries to get apples from a tree by himself, while a yellow man builds a ladder. (EKA: Episode 0870)
Film: A woman and a girl talk about things they see in the river. (EKA: Episode 0945)
Cartoon: "Uncle Gus and all of us went for a ride to Ho-Ho-Kus". (EKA: Episode 0926)
Ad blocker interference detected!
Wikia is a free-to-use site that makes money from advertising. We have a modified experience for viewers using ad blockers

Wikia is not accessible if you've made further modifications. Remove the custom ad blocker rule(s) and the page will load as expected.