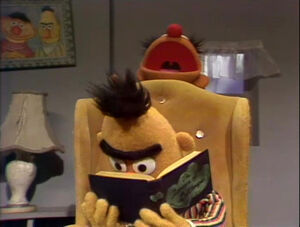 In a circus routine, Luis the ringmaster demonstrates "before" and "after". Freeze-frame technology allows his assistant, Linda, to show each action as she jumps through a hoop, slips on a banana peel, and gets a bucket of water thrown at her face. (EKA: Episode 0670)
Cookie Monster and Kermit: Cookie Monster encounters a green napkin. Every time he squeezes the napkin, a new number appears, allowing Cookie to count up to twenty. This creeps him out, but what's even more creepy is when Kermit shows up inside the napkin at the end of the bit -- he's also green, after all. (EKA: Episode 0797)
Cartoon: "Have you seen my NO?"
Oscar sorts by class using 3 bowling pins and a ball.
Cartoon: A story of a man who hates frogs, until his swamp becomes infested with flies. (EKA: Episode 0407)
Cartoon: Several kids are sad, but become happy when a fruit vendor appears. (Spanish version) (EKA: Episode 0823)
The wind blows wild on the farm.
Ad blocker interference detected!
Wikia is a free-to-use site that makes money from advertising. We have a modified experience for viewers using ad blockers

Wikia is not accessible if you've made further modifications. Remove the custom ad blocker rule(s) and the page will load as expected.