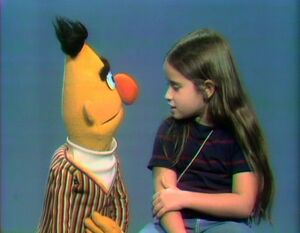 Ernie and Bert Sketches: Apartment: Ernie turns on the radio to hear his favorite exercise show, Get Moving. He engages the viewer to do all the exercises he does, such as touching toes and jumping. Bert joins in, and has so much fun jumping that he doesn't notice that his favorite program, Pigeons in the News, is coming on.
Cartoon: Two cavemen argue, each chanting "Me!" A large monolith bearing the word ME puts fear in both of them.
Film: A figure skater illustrates forward and backward. (EKA: Episode 0600)
Ad blocker interference detected!
Wikia is a free-to-use site that makes money from advertising. We have a modified experience for viewers using ad blockers

Wikia is not accessible if you've made further modifications. Remove the custom ad blocker rule(s) and the page will load as expected.