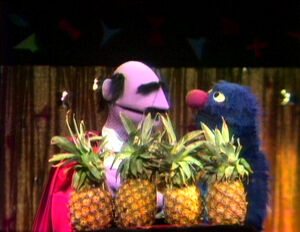 Cartoon: What if a frog and a fly switched bodies? What do you think would happen? (EKA: Episode 0406)
Cartoon: An apple, an orange, and a pear learn they can cooperate by rocking and rolling. (EKA: Episode 0791)
Bob, Luis and the kids sort by size using different cats.
Cartoon: A fisherboy catches all the letters of the alphabet and makes alphabet soup. (First: Episode 0004)
Cartoon: Fred, a singer, fails to figure out the words that rhyme with his name in the song he sings. (EKA: Episode 0977)
A man shows forward and backward with large sneakers. He ends up walking away with them on backward. (EKA: Episode 0826)
Cartoon: After the big game, a bird skeleton and an elephant skeleton get their skins mixed up in the locker room. The coach helps them out. (EKA: Episode 0813)
Ad blocker interference detected!
Wikia is a free-to-use site that makes money from advertising. We have a modified experience for viewers using ad blockers

Wikia is not accessible if you've made further modifications. Remove the custom ad blocker rule(s) and the page will load as expected.