Ad blocker interference detected!
Wikia is a free-to-use site that makes money from advertising. We have a modified experience for viewers using ad blockers

Wikia is not accessible if you've made further modifications. Remove the custom ad blocker rule(s) and the page will load as expected.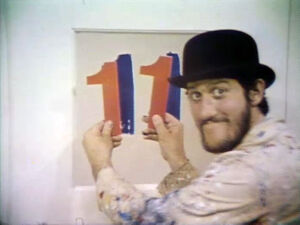 Kermit at Home: Grover is outside in the snow, freezing. He keeps knocking on Kermit's door, asking how to get warm, and Kermit keeps telling him to come inside. Grover, missing the point, tries ideas of his own to get warm, but they don't work. Finally, Kermit tells Grover that if he wants to get warm, he should come inside. Excited, Grover pulls Kermit aside and slams the door, locking Kermit outside. Grover goes to sleep in Kermit's armchair while the frozen frog scrapes at the window. (EKA: Episode 0598)
Film: The Mad Painter attempts to paint an 11 on a door in a doctor's office, but the doctor (Stockard Channing) keeps appearing to call the waiting patients. Though he finally paints an 11 on the door's glass pane, a janitor washes it off, and the nurse yanks the painter into the office. (EKA: Episode 0351)
When Luis fails to show up, Maria wonders who she should go to the play with.
Cartoon: Two dots play hide-and-seek amongst different shaped blocks. (EKA: Episode 0833)