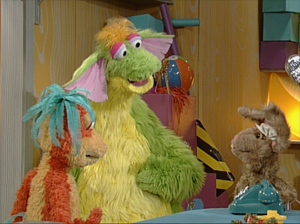 Mopatop opens the episode by offering soup, a hoop or a Nincompoop.
Claudia Bird enters the shop and she tells Mopatop that she has tried to ring him up to hear if the flippers she had ordered are in, but no-one answered the phone. They conclude that the phones ringer are broken, so they call Odd-Job Gerald, who proceeds to fix the ringer and then leaves. The loud sound of a siren are suddenly deafening Mopatop and Puppyduck, they try to figure out were the noise comes from, when Odd-Job Gerald comes in and asks them why they don't answer the phone, and then he answers the phone and the noise stops. Odd-Job Gerald explains to them that he had installed a fire engine ringer on the phone, they ask him to replace it with a different ringer. Then Lamont arrives with a delivery, Puppyduck then wants to ring Claudia to let her know the flippers has arrived. Just as she is about to pick up the phone, the sound of a cat is heard in the shop. As they start to look around for the cat, Odd-Job Gerald asks them if they like that ring better, it turns out he used a cat ringer, Mopatop asks him to install another ringer. Odd-Job Gerald then shows Mopatop and Puppyduck all of his favorite ringers so they can pick the ringer they want. They did not like any of the ringers that he showed them, finally he pulls out a uninteresting ringer, however Mopatop and Puppyduck thinks that sound are just right for the ringer for their telephone, even the Nincompoop recognizes the ringer as the sound of a telephone ring. So Odd-Job Gerald installs the ringer, just in time for Claudia Birds call to ask if the flippers has arrived.
Performers
Ad blocker interference detected!
Wikia is a free-to-use site that makes money from advertising. We have a modified experience for viewers using ad blockers

Wikia is not accessible if you've made further modifications. Remove the custom ad blocker rule(s) and the page will load as expected.