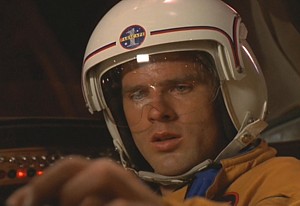 An astronaut from Earth, John Crichton, is sucked through a wormhole to a distant part of the galaxy where he finds himself in the middle of a space battle. He's taken captive aboard a ship of escaping alien prisoners.
Guest Stars
Kent McCord (Jack Crichton), Murray Bartlett (D.K.), Greg Blandy (PeacekepeerGuard #1), Colin Borgonon (Weapons Officer), Christine Stephen-Daly (Lt. Teeg), Damen Stephenson (Bio Isolation Man), Laurence Woodward (Peacekeeper Guard #2)
Notes
References
Crichton makes references to Close Encounters of the Third Kind and Steven Spielberg.
Ad blocker interference detected!
Wikia is a free-to-use site that makes money from advertising. We have a modified experience for viewers using ad blockers

Wikia is not accessible if you've made further modifications. Remove the custom ad blocker rule(s) and the page will load as expected.