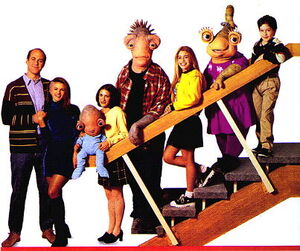 In the premiere episode of Aliens in the Family, Cookie hires Sally to serve as Bobut's nanny.
Meanwhile, Bobut brainwashes Doug's boss into giving the Brody patriarch a promotion and raise.
Snizzy recombines DNA to create a giant frog, which terrorizes the town -- and clues Doug in to the fact that he needs to spend more time with his rambunctious family.
Cast
Ad blocker interference detected!
Wikia is a free-to-use site that makes money from advertising. We have a modified experience for viewers using ad blockers

Wikia is not accessible if you've made further modifications. Remove the custom ad blocker rule(s) and the page will load as expected.