Episode 101: Home Is Where the Bear Is
Talk

0
Share
Ad blocker interference detected!
Wikia is a free-to-use site that makes money from advertising. We have a modified experience for viewers using ad blockers

Wikia is not accessible if you've made further modifications. Remove the custom ad blocker rule(s) and the page will load as expected.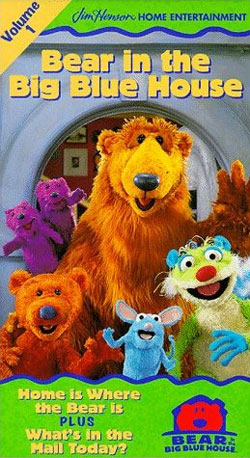 One morning, Bear finds Ojo playing pretend, having created a tent that's she's pretending is her home. Her imaginary home gets him thinking about his real home, the Big Blue House. He decides to take us all on a guided tour of the home. He takes us to the kitchen, which we learn is Tutter's favorite room. The bathroom is the favorite haunt of Pip and Pop. Treelo likes Bear's bedroom, mainly because of the bed. Shadow retells the story of the little old lady who lived in a shoe. Finally, Bear also enjoys going up to the attic, because he gets to talk there each night with his friend Luna, the moon.
Songs
(It's) Great to Be at Home
No Place Like My Bedroom (written by Brian Woodbury)
Notes
Pip and Pop perform their short bath song to the tune of the classic opera song La donna è mobile.
This being the first episode, Bear's asking of Luna if she'll sing the "Goodbye Song" is a bit different than other episodes. He asks her if she'll sing a goodbye song with him, rather than the "Goodbye Song." A subtle difference in phrasing to note that this is a routine that is being established.
This episode, as the premiere, features the first use of the opening theme, "Welcome to the Blue House" and the "Goodbye Song." There are also two other original songs "(It's) Great to Be at Home" and "No Place Like My Bedroom." The first song is Track 11 on the album Songs from Jim Henson's Bear in the Big Blue House and is titled simply "Great to Be at Home" on that album. It is Track 4 on the first Playhouse Disney album and is titled "It's Great to Be at Home" on both that album and the closing credits for this episode.
This episode includes a brief real-kids segment in which kids talk about their homes (or fantasize about them.)
Video releases
Hong Kong VCD
Home is Where the Bear Is (Hong Kong DVD)