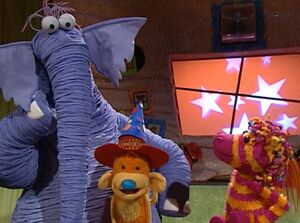 Bozark is having an extra-special party for his birthday after the show ends. Edi ask Waffle if he has been invited, but Waffle says he didn't receive an invitation. Waffle starts to cry at missing out on Bozark's birthday party and decides to throw himself a birthday party that doesn't include Bozark. It turns out that Waffle was invited to Bozark's party and Waffle apologies to Bozark.
At the DJs' workstation, the DJs are preparing a giant birthday cake for Bozark. DJ 1 is operating a machine crane to carry the giant cake, but he forgot to turn off the machine when he started to sing for Bozark's dance.
Songs
Body Talk
Moody Moves
Bozark Talkin
Ad blocker interference detected!
Wikia is a free-to-use site that makes money from advertising. We have a modified experience for viewers using ad blockers

Wikia is not accessible if you've made further modifications. Remove the custom ad blocker rule(s) and the page will load as expected.