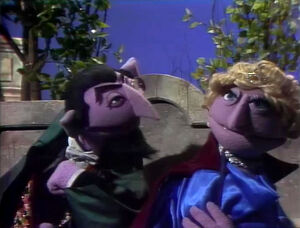 Cookie Monster: Two kids argue over a cookie. Cookie Monster arrives and says that the smallest person should get the cookie, and then, as the kids argue over which one is smaller, Cookie Monster shrinks himself. (EKA: Episode 0592)
Cartoon: A wizard asks a little boy to name words that start with the letter "R".
Count von Count: As ominous music plays, the Count walks around his castle, checks out the mirror (he has no reflection), and greets his bats. The mailman (Jim Henson) arrives, with a bunch of letters for Count. The mailman wonders why there are so many letters. The Count says that he wrote them all himself, so he could count them... and he does! (EKA: Episode 0592)
Cartoon: A turtle, a bird, and a butterfly demonstrate small, smaller, and smallest. (EKA: Episode 0592)
Luis doesn't have time to fix David's TV set, so David borrows Luis'.
Ad blocker interference detected!
Wikia is a free-to-use site that makes money from advertising. We have a modified experience for viewers using ad blockers

Wikia is not accessible if you've made further modifications. Remove the custom ad blocker rule(s) and the page will load as expected.