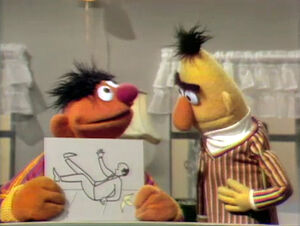 Film: The Mad Painter's quest to paint a 5 leads to the zoo, and a gorilla. He finds something to paint his 5 on, and it's a big yellow ball. Even the gorilla helps him out, and they give each other a "5". (EKA: Episode 0929)
Ernie and Bert: Ernie shows drawings to Bert, and Bert has to guess what happened. Ernie has a drawing of an empty bird cage with an open door (the bird flew away), and a man lying on the ground with a banana peel next to him (he slipped on it). Then Ernie shows Bert an blank piece of paper. The answer to that one is that there was a cow eating grass, but the grass is all eaten now and the cow went home. (First: Episode 0030)
Cartoon: Some kids wander into the word OPEN, where there's a party going on.
Cartoon: Vaudeville duo Herman Happy and Stanley Sad sing a song about how they live up to their names. (EKA: Episode 0789)
Cartoon: Cat / fat / hat / sat / rat / bat / scat / splat / flat / pat (EKA: Episode 0814)
Cartoon: A female head is drawn as its voice-over lists its parts, ending with earrings that "do nothing" ... and promptly wiggle around. (EKA: Episode 0821)
Notes
This episode filmed on January 26, 1977 and was directed by Robert Myhrum.[1]
Sources
Ad blocker interference detected!
Wikia is a free-to-use site that makes money from advertising. We have a modified experience for viewers using ad blockers

Wikia is not accessible if you've made further modifications. Remove the custom ad blocker rule(s) and the page will load as expected.