Ad blocker interference detected!
Wikia is a free-to-use site that makes money from advertising. We have a modified experience for viewers using ad blockers

Wikia is not accessible if you've made further modifications. Remove the custom ad blocker rule(s) and the page will load as expected.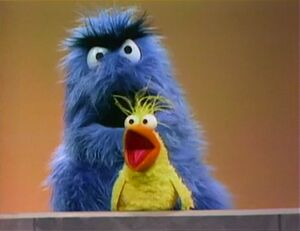 Juanita looks for "YO", asking, "¿Esto es yo?" Nope, it's a toy car, and a tomato, and a mirror. Looking in the mirror, she finds herself. "¡Hola, yo!" she cries. (EKA: Episode 0815)
Cartoon: A guru illustrates heavy and light by dropping a feather and a bowling ball on a man's foot. (EKA: Episode 0944)
Little Bird plays an imagination game, closing his eyes and imagining he hears sounds. At the end of the game, he imagines that he hears a scary monster -- and when he opens his eyes, Herry Monster is there, growling at him. (EKA: Episode 0198)
Film: A man spins in circles while riding in his kayak. (EKA: Episode 0312)
Cartoon: A supermarket worker stacks 12 cans, which keep collapsing every time someone grabs one. (EKA: Episode 0947)
Cartoon: A derby-hatted man identifies animal sounds, ending with a tractor. (EKA: Episode 0839)
Olivia uses her camera and some tools to sort by function.