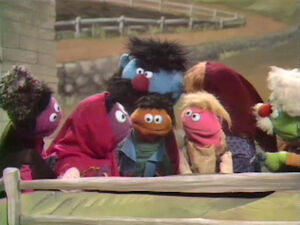 Oscar discovers his crabapple tree won't grow if he keeps it in his refrigerator.
Oscar talks to his tree and waters it.
Oscar's tree sprouts a single flower.
Oscar's tree now produced a crabapple, but no one else wants to eat it. So, Oscar has it instead.
Herbert Birdsfoot arranges three blocks for Grover to count. No matter how the blocks are arranged, they still add up to three. Herbert asks Grover to count some oranges as well. Grover confesses that he's good at counting blocks -- but he doesn't know how to count oranges! (EKA: Episode 0309)
Cartoon: What if we celebrated Valentine's Day with chickens instead of hearts? (EKA: Episode 0543)
Gardening tools are used to sort by class.
Two Muppet children, who can only read some words, resolve their fight over a book by helping each other and reading alternate words. (EKA: Episode 0297)
Cartoon: A pirate has his mate dig for treasure, which is buried between two trees. The mate doesn't know what between means. He finally gets the message, but a parrot makes off with the treasure. (EKA: Episode 0821)
Film: 'Fred, Get Me a 20!' - Detective Fred (Joe Raposo) is sent by his boss (Danny Epstein) to locate the number 20. Throughout the office and on the streets of New York, Fred tracks down the numbers 11 through 18 in numerical order by spying his surroundings. When he finds his way to Apartment 19, he discovers it is occupied by a gorilla, who leads him directly to the elusive 20. (EKA: Episode 0277)