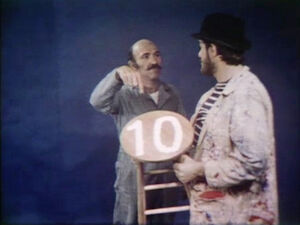 Mr. Snuffleupagus practices getting angry. When he finishes with that, he practices feeling sad.
Film: A blind woman explains to a little girl how she knows when to cross the street.
Simon Soundman shows the Kids a picture with a variety of hidden shapes. As the kids identify the hidden shapes, Simon makes the sounds -- a bell, a guitar, a telephone, a dog barking and a train. (EKA: Episode 0672)
Animation: A grape blows reveille, and inspects the "troops" -- 12 raisins on a slice of white bread. (EKA: Episode 0810)
Ernie and Bert: Ernie wants to have some cookies. Bert asks Ernie if he knows what "before" means, and Ernie demonstrates by saying that before he can have a cookie, he has to open the lid to a cookie jar, and after he closes the lid, he eats the cookie. He demonstrates a few times, until he loses his appetite for dinner. (First: Episode 0007)
Cartoon: Several kids are sad, but become happy when a fruit vendor appears. (Spanish version) (EKA: Episode 0823)
Ad blocker interference detected!
Wikia is a free-to-use site that makes money from advertising. We have a modified experience for viewers using ad blockers

Wikia is not accessible if you've made further modifications. Remove the custom ad blocker rule(s) and the page will load as expected.