Ad blocker interference detected!
Wikia is a free-to-use site that makes money from advertising. We have a modified experience for viewers using ad blockers

Wikia is not accessible if you've made further modifications. Remove the custom ad blocker rule(s) and the page will load as expected.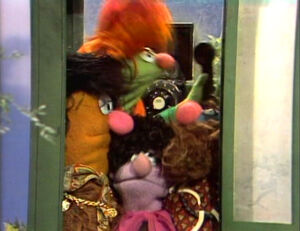 Cookie Monster and Ernie: Ernie promises Cookie Monster that he's not going to be tricked out of his plate of cookies this time. Cookie Monster asks Ernie if he's going to eat his cookies fast or slow and demonstrates by eating one of the cookies, and in the process finishes the entire plate.
Old West sketches: Five good men are needed to form a posse and catch Bad Bart, the meanest man in the West. The sheriff counts five men in the saloon, and tries to organize them. But it turns out that there are only four good men -- one of them is Bad Bart! (EKA: Episode 0600)
Film: "Head to Toe Puzzle": Two kids put together a puzzle of a boy. (First: Episode 0024)
Cartoon: A tiny ant pushes the huge N into its place in the alphabet. (EKA: Episode 0868)