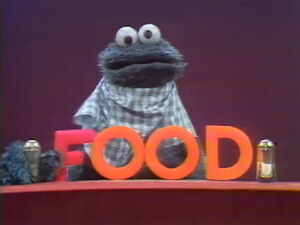 Big Bird is first and Mr. Snuffleupagus is last in every game they play together. Big Bird invents a hiding game so Snuffleupagus can win.
Luis plays a game of Musical Chairs with some disabled kids. Grover gives each one of them a hug whenever they drop out of the game. (EKA: Episode 0958)
Cartoon: "A Loaf of Bread, a Container of Milk, and a stick of Butter" -- A little girl remembers what to buy at the store by visualizing her mother giving the instructions. Artist: Jim Simon (EKA: Episode 0420)
Cookie Monster: Cookie Monster sees styrofoam letters that spell the word FOOD. After he sounds them out, he dons a bib, sprinkles salt and pepper on the letters, and eats them...and then eats the bib. (EKA: Episode 0723)
Film: The Mad Painter gets another comeuppance. He attempts to paint an 11 in a doctor's office, but is unable to act in front of the waiting patients. Although he paints a number 11 on the door, a janitor washes it off, and the nurse yanks the painter into the office. (EKA: Episode 0351)
Susan tries to find out if the children remember the objects she put inside a box.
Cartoon: A race announcer doubles as the man who holds up the START and STOP sign. (EKA: Episode 0776)
Snuffy finds out he can't sort by class.
Cartoon: A construction worker explains the uses of a folding ruler. (EKA: Episode 0592)
Song: "Cooperation" - Kids cooperate to move a wooden structure.
Cartoon: A man (voiced by Gary Owens) explains how H starts the word "Hello", which is then demonstrated by people calling him and asking for someone named Harold. (First: Episode 0020)