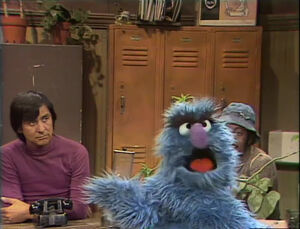 Big Bird introduces the pencil as one of the marvels of the century.
Herry has written a song using a pencil that Big Bird has given him. The song is called "I Can't Help It."
Biff has written a poem about tools with his pencil.
Oscar asks Luis if he can borrow his pencil, at least the eraser part of it. Oscar shows Luis (to his amusement) the different things he can do with the eraser. He erases a newspaper ---eliminating all the good news, and keeping the bad news intact--- and then the numbers off of an alarm clock, to which Luis asks Oscar how he's going to be able to tell time now; Oscar explains that that's the point. Oscar then shows Luis the Grouch alphabet, which consists of no letters, as he's erased them all. Eventually, as Oscar carries on, he ends up erasing himself and Luis off the screen.
Cartoon: A man explains that the letter E begins both Enter and Exit. Another man named Roy runs through the doors. (EKA: Episode 0406)
"Triangle and Square": A male voice narrates a story of a jazzy triangle who loved to dance, and a square square. The triangle likes being flexible, but the square would rather be stiff and *square*. (First: Episode 0007)
Cartoon: A supermarket worker stacks 12 cans, which keep collapsing every time someone grabs one. (EKA: Episode 0947)
Ernie and Bert: Bert is trying to write a letter to Mr. Rogers, but finds it difficult when Ernie operates his electric fan right next to him. Bert blows up at Ernie and says he is "hot and bothered," and Ernie has just the thing for that: more cool air. (EKA: Episode 0573)
Ad blocker interference detected!
Wikia is a free-to-use site that makes money from advertising. We have a modified experience for viewers using ad blockers

Wikia is not accessible if you've made further modifications. Remove the custom ad blocker rule(s) and the page will load as expected.